What is difference between Click eCourse and SkillShare platform?
In this third comparison episode, we talk about SkillShare platform.
Previously, we compared Click eCourse with Teachable (at http://cis358.jsgagnon.com) and with Udemy (at http://cis359.jsgagnon.com).
Today, it's all about SkillShare.
What is SkillShare?
SkillShare is a course hosting platform where students pay a monthly fee to access any courses they want and educators get paid based on how many minutes were watched of their courses.
They have thousands of courses in hundreds of categories.
Students can attend any courses when paying their premium monthly fee.
Educators can choose to have their courses available for free of only to premium members.
What is Click eCourse?
Click eCourse is a course hosting platform and marketplace with social media features where student access is based on course prices and educators get paid 100% of what they sell the courses for.
It is a new platform so there are just a handful of courses on it but it's growing.
Students attend courses that they purchased with no additional costs to use the platform.
Educators can choose to give courses away for free or sell them at any price they want.
What are the differences?
Let's look at the difference between Click eCourse and SkillShare from a feature perspective.
| Feature | SkillShare | Click eCourse |
| --- | --- | --- |
| Platform type | Course hosting with marketing | Course Hosting, membership, marketplace and social media |
| Host courses | yes | yes |
| Attend courses | yes | yes |
| Track courses across devices | yes | yes |
| Add PDF files to courses | no | yes |
| Minimum length of courses | At least 10 minutes | no limit – you can even create courses with no videos |
| Use embedded videos | no | yes, from YouTube, Facebook or Vimeo |
| Upload your own videos | yes | yes on select plans |
| Affiliate program | $7 total per referral | Up to 75% lifetime of referral monthly fees |
| Course commissions | no | Up to 100% as decided by course creator |
| Choose how much you sell your course | no | yes |
| Percentage you keep of your sales | none – you are paid by shared minutes | 100% (less processor fees) |
| Maximum students per course | no limit | no limit |
| Maximum courses you can create | no limit | based on plan |
| Rate courses | yes | yes |
| Comment on courses | yes | yes |
| Comment on lessons | no | yes |
| Create social groups | no | yes |
| Send PM to students | no | yes |
| Post updates to public feed | no | yes |
| Create your own blog site | no | yes |
| Create social profiles | minimal | yes with social links and pages |
There's probably more to compare, but that should help.
Course hosting differences
From a course hosting perspective, you'll notice that SkillShare is a little simpler as it basically has 2 areas to focus on.
There's the Video Lessons area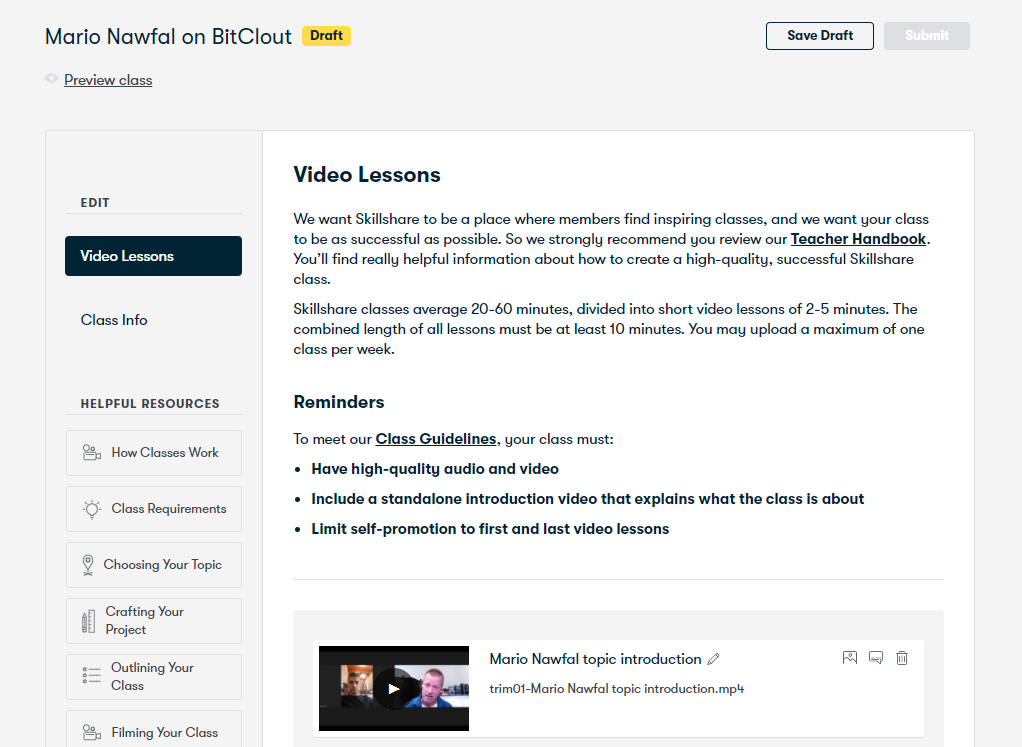 and the Class Info area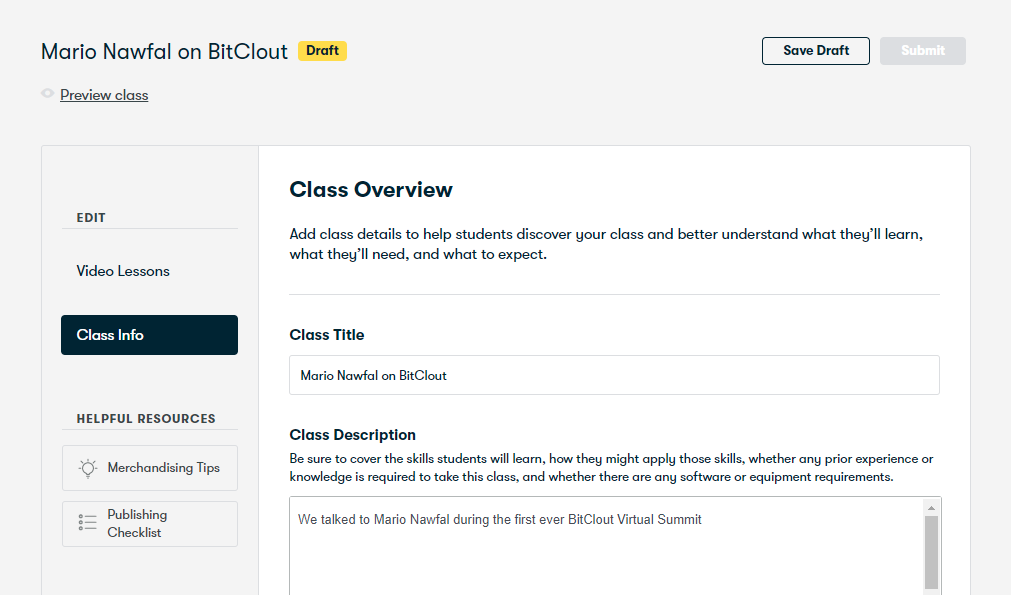 Pretty simple, right?
On Click eCourse, it's similar with the course information being in the course edit page.

And the lessons being added via the lesson add button.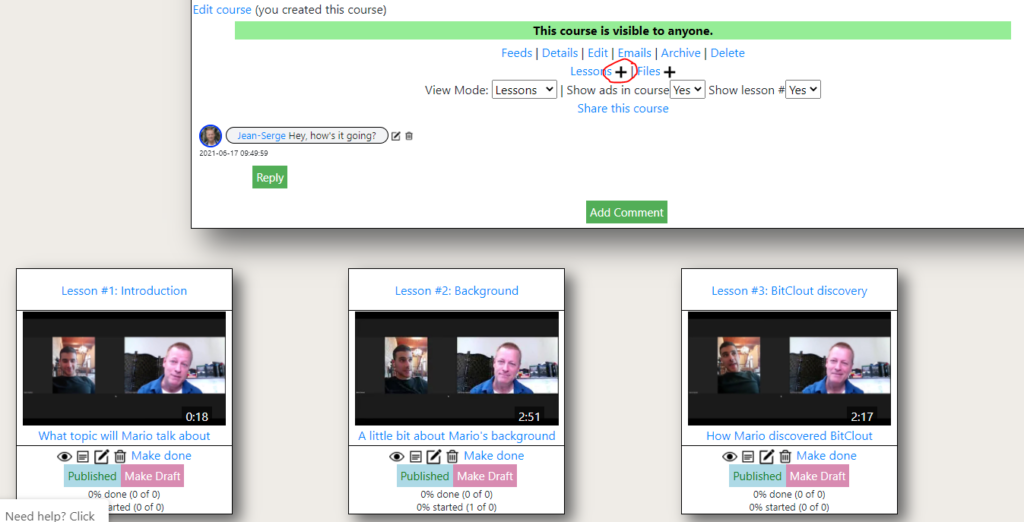 However, there are a number of differences in terms of course hosting you should be aware of:
On SkillShare, you can't take advantage of video views to increase your YouTube channel subscribers or views.
If that doesn't matter to you both Click eCourse and SkillShare allow you to upload your videos.
On SkillShare, there is a minimum of 10 minutes of video in a course. There is no such minimum on Click eCourse.
Finally, on Click eCourse, you decide how much to sell (or give away) your course for and you get to keep 100% of profits.
On SkillShare, you can't choose the course price – it's either free or it's not and you get paid on revenue sharing based on how many minutes of your lessons were watched – this can be great but also is not under your control at all.
Conclusion
If you're a marketer and understand some of what it takes to market a course online, you might prefer the 100% profit you'll get from Click eCourse.
However, if you don't want to deal with setting up your won funnels or promoting your course yourself, you will love SkillShare even though you have no control over income, at least you know talented people are working on the marketing for you.
Personally, I'm a very DIY person and that's why I created Click eCourse.
Take a look at the video to see more of my comparision.
Share this with your marketing friends who are wondering about the platforms by clicking the social links.