What is simplest way to setup email follow up to opt-in offer?
They say you need to create story based email sequences.
I'm not going to say I disagree because it's certainly best if you can.
But what I will tell you is that until you get good at creating those types of emails, you can still grow an email list using a simpler approach.
Personally, I've done this a few times with different lists and it's worked well.
Where do you start?
Obviously, you'll need an offer for your opt-in but I'm sure you know that.
I'll assume you already have one – but if not, you can check out on of my previous posts Course Income Secrets #370 – How to create a simple eBook to grow your Facebook group? at cis370.jsgagnon.com on how to create a simple 1 page eBook with Canva.
I created a few different offers in the past using the idea of tips, secrets or steps.
For example, my very first eBook was about monetizing your passion, then I created one on simple strategies to attract your customers, another on getting their number and the 12 steps to online success.
All these had the same idea – multiple steps or tips.
Your optin page or funnel
Once you have your offer, of course you'll need to have a way to get their email.
You can do that many different ways, such as creating a landing page in your email autoresponder (like aWeber, which I use) or create a funnel in Click Funnels for example.
Any method is fine and isn't the focus of this article.
No matter how you do it though, the important thing is that they get subscribed to an email list.
The basis of the email list
The main reason for your email list is to at least send them the freebie they asked for.
I see many making the mistake of giving them access to their freebie from the thank you page that shows up after they enter their email.
Even though that's simpler to do, you're loosing out on getting a valid email and being able to send them more emails later on.
After all, your real goal in building and email list is to build a relationship with your subscribers with email broadcasts and campaigns.
By making sure the freebie is only available in the first email sent to them, you guarantee you get valid emails instead of allowing them to just give you a bad email.
The email campaign
Okay, so we've come to the meat of this article.
What's an email campaign?
The definition might be different depending on who you ask, but I'd say it's a series of emails sent to a specific list of people on a specific schedule.
If you read up on what the best thing to do is, you'll heard about indoctrination series, follow up sequence, soap opera sequences and relationship building lists.
There's a lot of different things you can do but for me, it's really quite simple.
How to create simple quick email follow up series?
What I've done in the past is just one way to do it.
Don't missunderstand – I'm not saying this is the best way to do – just one way.
Take your freebie and see how you could talk about each part of it in sequence.
So, if it's 10 ways to loose belly fat, then you might have 10 emails, 1 for each of the ways.
If it's the top 5 secrets to facebook engagement, you might have 5 emails, each with 1 secrets.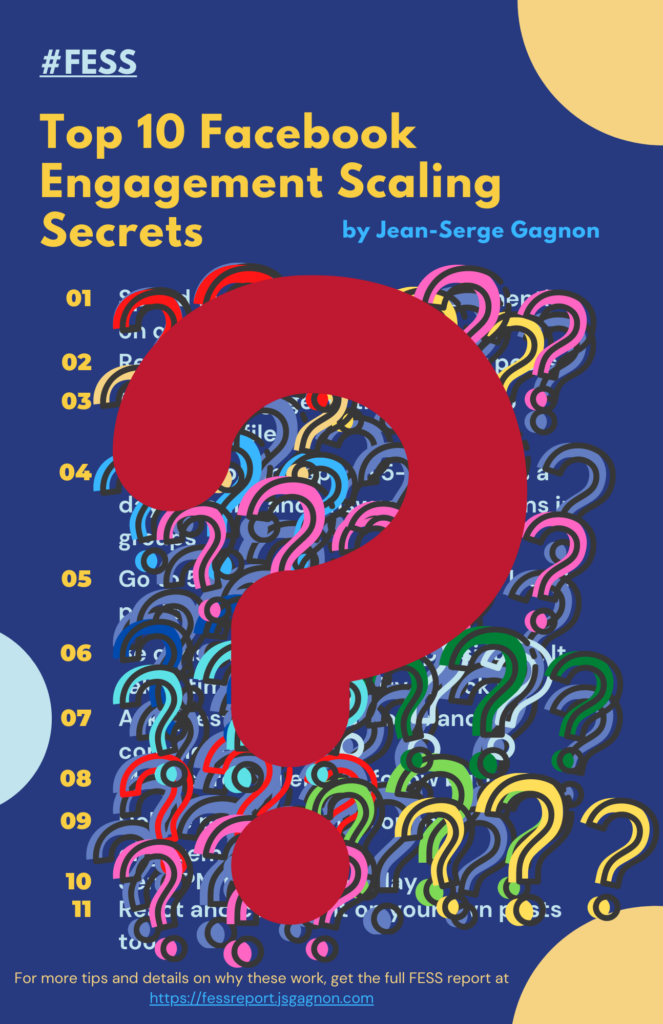 You get the idea?
Of course, if your freebie isn't perfectly defined that way, just take a paragraph or page at a time and talk about that.
The idea is that your subscibers asked for it but many don't even read it, so this helps them.
Conclusion
In the video I do the start of this process with my new Top 10 Facebook Engagement Scaling Secrets eBook.
I create a series (well the first few) of emails based on these 10 secrets.
Watch the video to see me doing it hands on.
Oh, and don't forget to share with your friends using the social icons.