Fiona Hurricane Aftermath Special Report
Today is a special report on how we are coping with the aftermath of the Fiona Hurricane here in PEI, Canada.
We were hit pretty bad for what we are used to up here in eastern Canada.
Obviously, not anything close to devastation by Ian Hurricane in Fort Myers, Florida but it was the worst damage to our fair land in decades, if not the worst in centuries.
Why not about online courses?
I know, normally these episodes are all about digital courses, building audiences and online marketing.
Since I missed my normal posting date for my weekly episodes, I thought I'd do a special this week.
I'm late by a few days but that's because we had no power.
One thing to note is that part of selling course online and building an audience is letting them into your life a little.
That's party what this is about too.
What was Fiona Hurricane?
As you probably know, each Hurricane gets named when it starts to who itself.
I'm not 100% sure how the naming works, but I know they are in alphabetical order for the year.
This means Fiona was the 6th Hurricane of this season to show up in the Atlantic Ocean.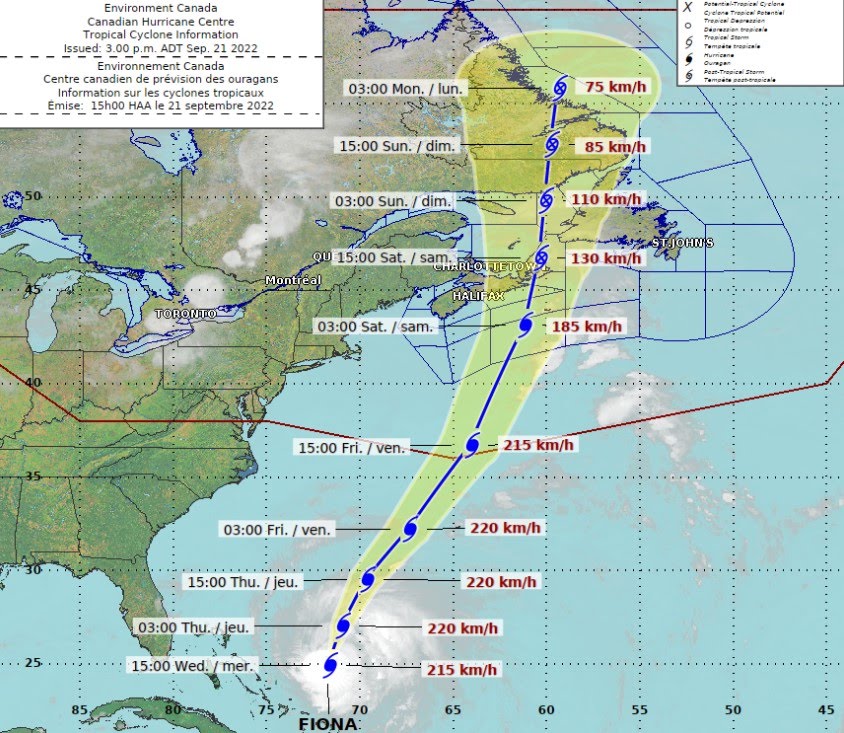 The original estimated path was to come to our home on Saturday around 3-5am with 130km/hr winds.
What actually happened with Fiona Hurricane?
It was pretty calm in the evening until as late as midnight when winds started to pickup.
Then, power went out at 1:41am on Saturday, September 24th and the winds were wicked!
We decided it might be smart to go down from the 2nd level where we normally sleep to the 1st level.
I took mattresses down and got beds setup when I heard a big whoosh sound, then breaking glass and it seemed like the wind was in the house now!
Lucky we got setup downstairs because what we just heard was the sound of a window being blow out!
At least there was no glass inside the house but over the next few hours, 2 other windows were blown out and we heard the glass shattering outside.
I found some plywood and boarded up the windows from the inside as I was not going to go outside with a ladder in that wind!
How bad was the wind?
We were smack in the middle of the worst of the storm.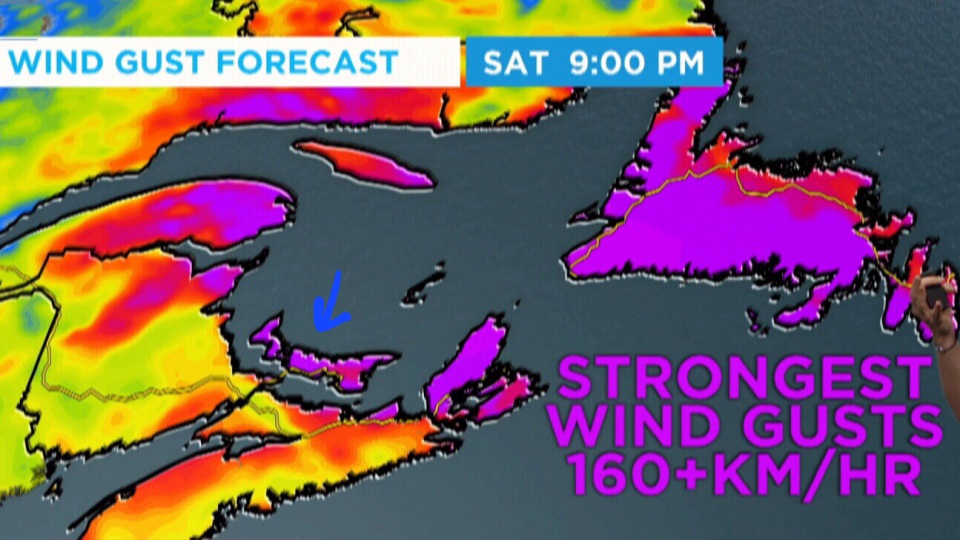 As I mentioned before, the forecast predicted winds of 130km/hr when in fact, they ended up being over 160km/hr!
Our house is where that blue arrow is pointing to, right in an area with the highest winds.
Of course, others were hit just as hard, if not more, than us, but this blog post is about Fiona in PEI.
How bad for the next day?
Needless to say we didn't sleep much that night and when the sun came up, the winds were still really scary.
We could see the trees outside swaying more than we'd ever seen them do that!
Fiona ended up taking out the entire island's power grid – over 82,000 homes were without power the next day.
Trees were fallen everywhere – on roads, on homes, on power lines! It was quite the storm to be sure!
Half our roof shingles were ripped off and we got water damage inside with buckets filling quickly.
Saturday was a long day, that's for sure – couldn't go anyway and had no power.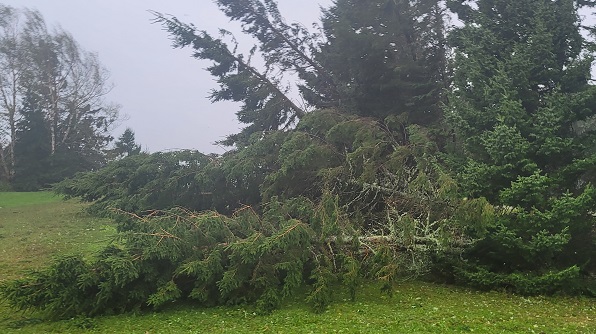 When we did make it out, we saw entire sections of power line poles cracked in two with transformers and power lines on the ground!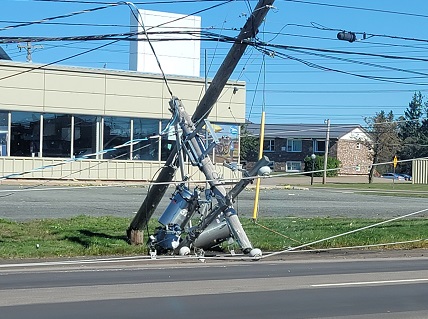 The devastation was indeed great for our little island.
The aftermath of Fiona
Thank god for Amazon, I was able to order Generators and cables and got them delivered in 3 days.
I was even able to get 230V power to run the water – although that part didn't come until the 7th day without power.

The next weekend, I did lot of wood cutting work too and got most of the trees that fell on our yard cut up and pilled up.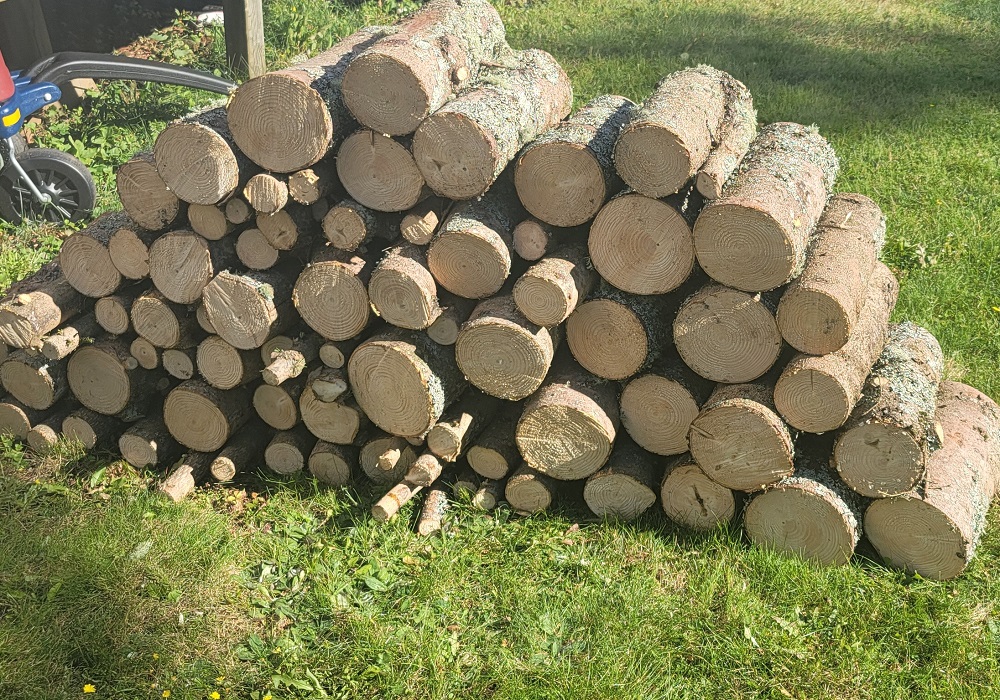 There's still lots more work to do but it's getting there.
Conclusion
I hope you never have to live through something like this.
Natural disasters are never fun, flooding, earthquakes, tornados and hurricanes are nothing to wish upon anyone else!
Take a look at the video if you want some insight into some more of this.
Until next time.