How to Create Insanely good Sales Copy with Clever AI Copy?
I don't know about you but I've been hearing about AI and ChatGPT all over the place.
I first heard about it from my favorite online Marketer, Russell Brunson.
He said that he asked ChatGPT to write him a love letter to his wife and it was really good!
I was like, what the heck is ChatGPT??? So I looked it up.
I was completely blown away at what was possible and as a programmer saw all sorts of ways I could integrate it into my platform and create a new platform called Clever AI Copy!
Get free access for 90 days to Clever AI Copy platform by going to bonus.CleverAIcopy.com
Before getting into that though, let's clarify some things..
What exactly is AI or Artificial Intelligence?
That's definitely a broad question but AI refers to a whole science around understanding what makes a human intelligent.
Is it knowledge, is it the ability to learn new things, is it being able to put new things into action or even extrapolate new information from existing seemingly unrelated information?
Your guess is as good as mine but we've seen it plenty in movies and books.
We see AI as the robot that replaces humans in tasks and in the worst case scenarios (think The Matrix) where AI eradicates humans!
Of course, we're not talking about that here, just some computer program that can interpret our words and give us useful output based on what we ask for.
What is ChatGPT?
ChatGPT is a free online tool that was released by OpenAI.
It lets you enter text and get a response you can then use in your own content.
For example, I asked it this question:
Write me a sales page of 100 words offering an easy way to loose 30 pounds in 30 days with exercise and keto diet. Include some Emojis and bold text. Make the offer $97 until midnight with regular price of $497. Don't give details of what to do, but rather what they will gain from the end result.
And I got this response:
🎉🔥🍔💪 Lose 30 Pounds in 30 Days with Exercise and Keto Diet! 🍔💪🔥🎉

Are you tired of struggling with excess weight and feeling self-conscious about your body? Do you want to experience the confidence and energy that comes with a leaner physique? Then our program is perfect for you!

With our easy-to-follow exercise and keto diet plan, you'll be amazed at how quickly you can shed those unwanted pounds. Imagine waking up every day feeling lighter, more energetic, and more confident in your body. No more fad diets, no more gimmicks – just real results that you can see and feel.

And for a limited time, you can get started for just $97! That's a massive discount from our regular price of $497. But you have to act fast – this offer ends at midnight tonight.

Take the first step towards a healthier, happier you – join our program today! 💪🎉👍
The free version has limitations so you can pay to use it with less limitations. For example, this happens a lot:

What is OpenAI?
OpenAI is a company dedicated to making AI text and image generation available to the public as very very low cost.
They were founded in big part by Elon Musk, the owner of the iconic electric car brand Tesla and the space program SpaceX.
OpenAI created ChatGPT to allow people to try out the AI without any programing knowledge.
The cool thing about OpenAI is that anyone who knows how to program can setup a website that users can use for various reasons.
They even have a dozen different APIs for various use cases, like chat interaction, text generation, image creation, moderation and more!
The bad thing is hundreds of new not so great web sites will also be created.
Hopefully, you'll agree that Clever AI Copy is one of great ones!
What can you do with Clever AI Copy?
When I first looked at the OpenAI API, I quickly created a simple ChatGPT like interface and started playing around with what it could do.
It didn't take me long to add more features and I even added more features since I recorded the video for this blog post!
Clever AI Copy can help you with a range of content-related tasks, including:
💬 Have conversations with a chatbot
🖼 Generate images with simple text descriptions
📝 Write entire blog posts by specifying the topic and number of sections
📒 Create course titles, summaries, descriptions, and lesson topic headers
📊 Create funnel headers, subheaders, and copy
📧 Create emails to send to your broadcast list
✉️ Create letters based on who it's for, who it's from, and the type of letter, such as sales letters and love letters
💡 Adhoc sessions allowing you the content you need for any marketing material
Pretty nifty right?
Did I mention you can get free access for 90 days by going to bonus.cleveraicopy.com?
How do you use Clever AI Copy web site?
First, you need an account – you can either have a friend send you an invite or go to bonus.cleveraicopy.com (not sure how long that will be available).
After that, you go to the CopyAI page

On which you will see all the options. Click on one, for example, the Email option

And then fill in the blanks and press the Submit button. For example:

Which will generate your output and you can easily cut-n-paste it into your email auto-response tool.
For example, I got this when I tried the above text (note that output will be different each time due to how the AI works)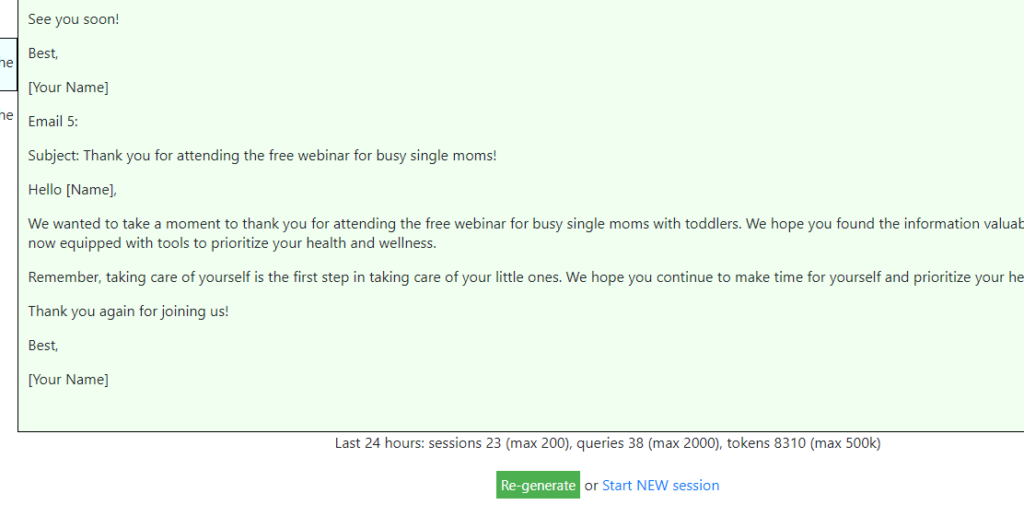 Conclusion
As you can see, it's such an amazing tool to have.
Imagine having your very own AI assistant to help you generate the perfect funnel headers, some great blog posts or even super cool images.
You'll want to watch this video too, even though it was recorded before the newest features were added.
Make sure to share with your friends too, either this blog post or the platform's Share button on top.
P.S. Get your free 90 days of Clever Copy AI at bonus.cleveraicopy.com today!