How to create a Virtual Summit using a Drip Course?
If you're putting together a Virtual Summit, you might want to look into setting it up as a Drip course.
No matter what platform you choose, for a Virtual Summit, you'll need to organise your interviews and using a Drip Course makes it easy to automte too.
I recently did a Virtual Summit and used a regular platform to publish it but each day, I had to manually change which videos were available, so it was a lot of work.
Plus, what if I made a mistake or forgot something one day?
Anyway, let's explain a little more about what I'm talking about before moving ahead.
What is Virtual Summit?
First, let's talk about what I mean by a Virtual Summit.
I've talked about it before, so you may have seen this already, but what I mean by a Virtual Summit is that it's a summit which is virtual, i.e. online.
Duh, right? Well, let me clarify.
A summit is a meeting of the minds if you will, a convention or event where like minded people meet to talk about a specific topic they are interested in.
It could be about brain surgery, writting a book, learning to invest in real estate, building a business or a social media platform.
What was the Summit I ran about?
The Summit I put together was about BitClout, a new social media platform based on blockchain technology.
The reason it's called "Virtual" Summit, is because it's not in person but rather online with either live or pre-recorded videos.
My Virtual Summit was over 20 interviews and videos split into over 30 seperate sessions with 3-4 per day over a period of 10 days.
You can choose your Summit to be 10, 30, 100 or 365 days if you want, it's all based on your choices and the topic.
What is a Drip Course?
Next, let's clearly explain what I mean by a drip course.
From the name itself, you can imply that is means content is dripped over time.
Like a faucet, it can be a single drop ever a long time or many drops in a short time.
In the case of a course, it's the content you drip (obviously) and in the case of an online video course, it would be the videos or lessons.
Depending on the platform, you may be able to select what you drip when or it might be hard coded for you as to one per day for example.
How does a Drip course help with a virtual summit?
As I mentioned, I first did my Virtual Summit by recording all the interviews ahead of time and then uploading all the videos to a course platform.
I then made some videos available on the first day of the summit and on the second day, I made the first videos no longer accessible and made new videos accessible and so on each day.
It's not too hard to do, just click a few buttons each day.
The problem was in the schedule. Each day, at the same time, I had to switch the videos.
I could possibly forget, or do the wrong ones.
Maybe that's not a big deal but it might be for some.
A Drip course fies all that and makes it automatic.
Setting up a Drip Course as a Virtual Summit.
On Click eCourse platform, you can create a Drip Course by simply selecting it as the course type.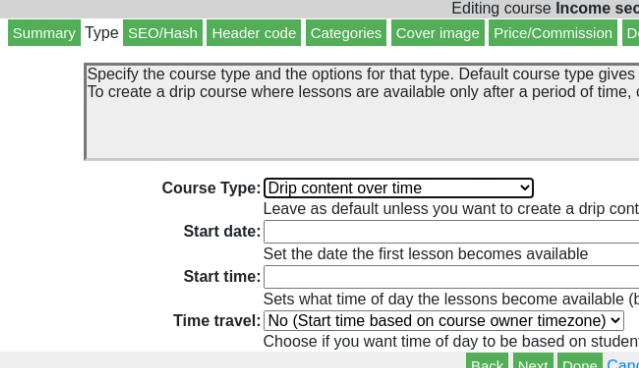 After choosing the option, you can then set the start date of your Virtual Summit as well as the start time.
You can also decide if the start time will be fixed to your timezone of if it will be based on the attendees timezone.
Adding videos to Virtual Summit
Just like any other online course with videos, you add the interview videos to the Drip Course.
For each of the videos, you can choose which day they begin and how long they are accessible for.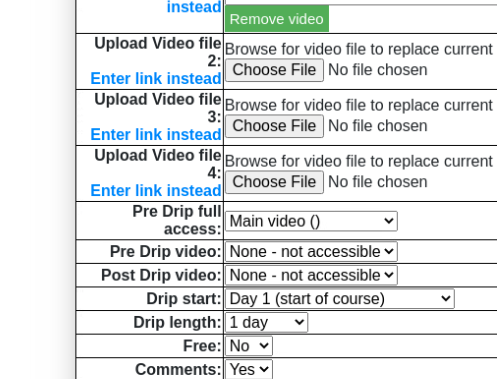 You can also upload up to 4 different videos and select which ones are available before and after the time the interview is available based on it's start and end times.
Also, there is an option for full access paid option and that can be setup as you wish for the before access.
Conclusion
The great thing about setting this up is that it's a set and forget way of doing it.
Choose when the Summit starts, upload the videos and choose which days they show up on and it just happens by magic.
Watch the video to see more details on how to set this up and what other options exist.
Feel free t reach out for any questions or guided help.
And make sure to share this with your friends using the social icons.