How to create Facebook retargeting ads to sell your course?
Have you heard about retargeting ads?
Sure you have, every guru talks about it and explains how to do it, right?
It's true that it's not rocket science but it's still a lot of things to do to get it right.
The last blog post Course Income Secrets #375 – How to create videos for Facebook ads to sell your stuff? was about the videos you need to prepare.
Today, we'll show you exactly how to do the Facebook Ads part of it.
What does the entire process look like?
Before that though, here's the process from the beginning.
Create a series of videos
Create a target audience (saved audience)
Create a custom audience (for retargeting)
Upload videos to your page
Create Ads to the videos using saved audience
Create Ads to the videos using custom audience
Keep in mind that only one video should have a call to action (others are pure value)
We covered the explanation of why you need those videos and the creation of the audiences in the previous blog post so we'll start from the Ads creation here.
Why upload videos to your page?
You might have done ads before and know that you can just upload the video to the ad.
To be honest I'm not reay sure if it really makes a difference but I prefer posting the videos to my page.
It allows me to see them on my page and possibly get some organic reach on them as well.
If you only upload them in the ad manager, you won't get any organic reach (unless your audience shares them)
I post each video with a similar description and add hash tags that make sense.
In this particular case, I create the videos using Facebook stories to add text and auto generate the subtitles.
I then posted the videos to my story, both in Facebook and Instagram so I could add them as highlights.
Then I also posted them to Instagram and Facebook Reels as well as TikTok.
None of that is required though if you just care about doing the ads.
Creating the Ads to saved audience
There are a few different ways to create Ads with Facebook.
You can just boost the post, you can use the Ads app on your phone or the Ads manager on your desktop.
Personally, I prefer the desktop ads manager and that's what I showed in the video.
First, go to https://business.facebook.com/adsmanager and you'll see your past ads or none.
Note that if you never posted Ads yet, you'll need to setup your account. I'll assume that's done which means you'll see something like this:

Click on the green Create button and you'll see the new campaign popup where you'll choose Video views.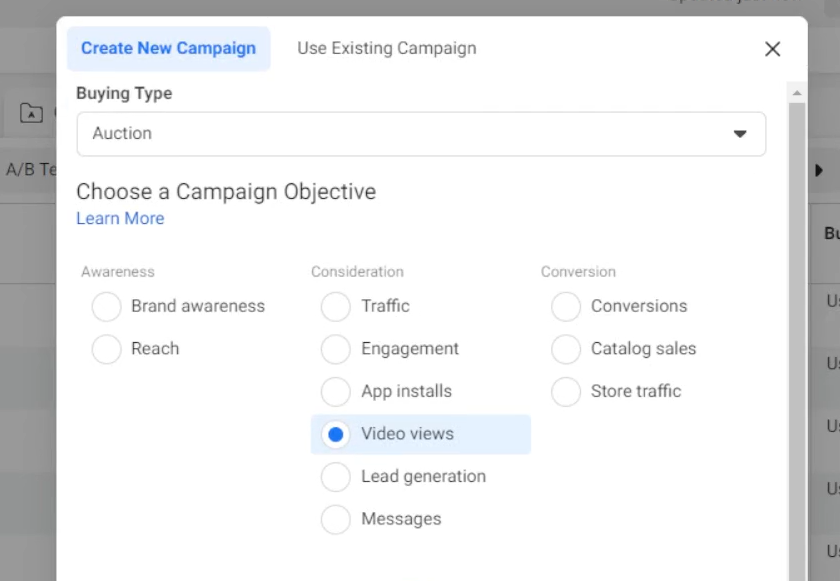 You can enter a name (I like to enter one, but it's not required) and then click Continue which will take you to the campaign page.
Scroll to bottom and enter your budget.
Since you'll be doing 14-20 ads, I'd suggest putting the minimum of $1 USD (or $1.30 CAD). Later you can choose to spend more based on results.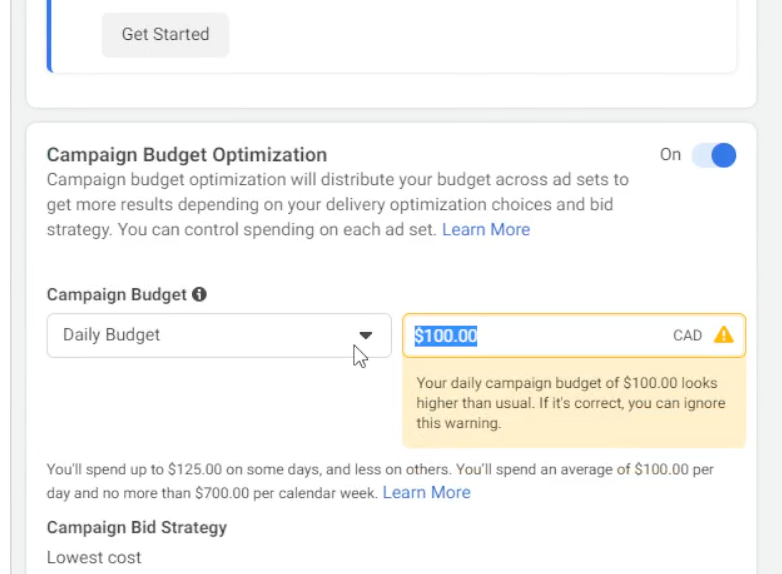 You can certainly changes any of the settings, but I still leave everything on default for now.
The next screen will be the audience selection.
Choose your targetted audience you defined before or create a new one – but it should be the same for all videos for the targetted Ads.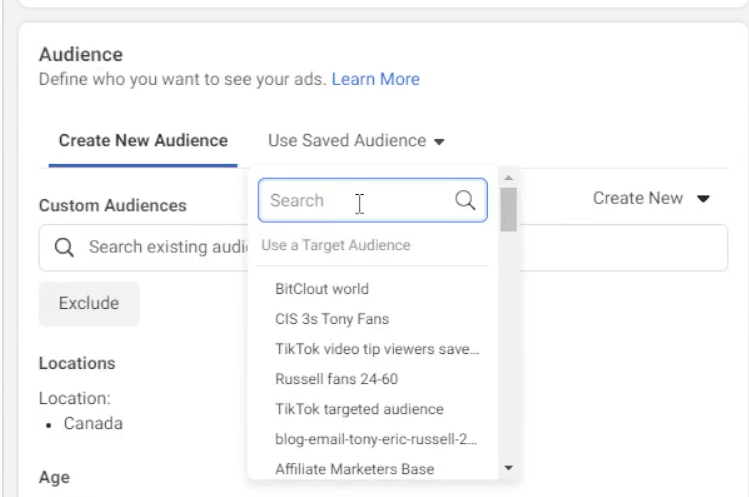 The last step is the select the post. So choose the "Select Post" option in the drop down.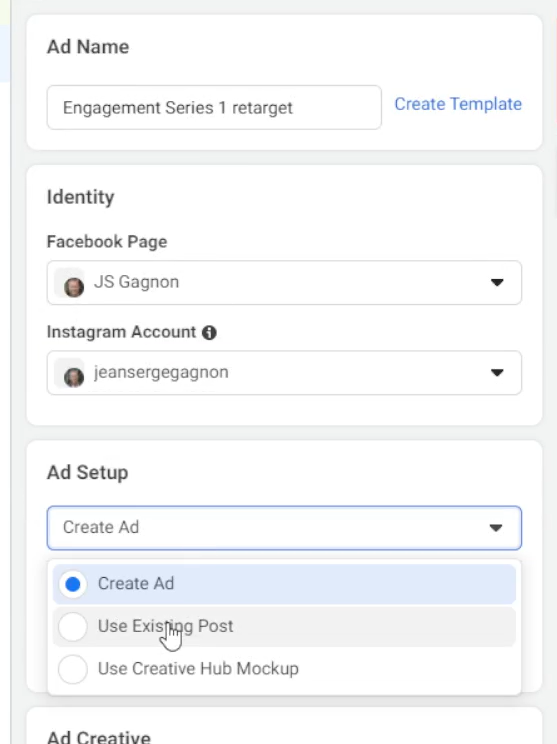 And after that, you select the post (after first add, it defaults to last ad, so you click change instead of select)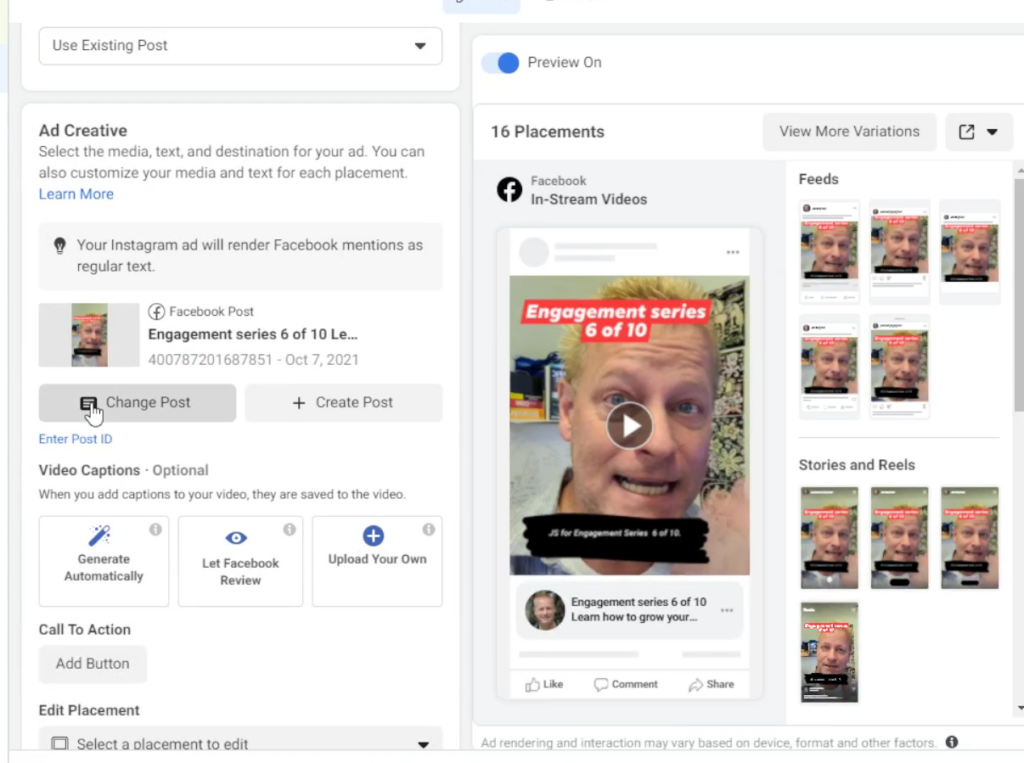 Scroll through your posts to find the one you want to create ad, select it and click Continue.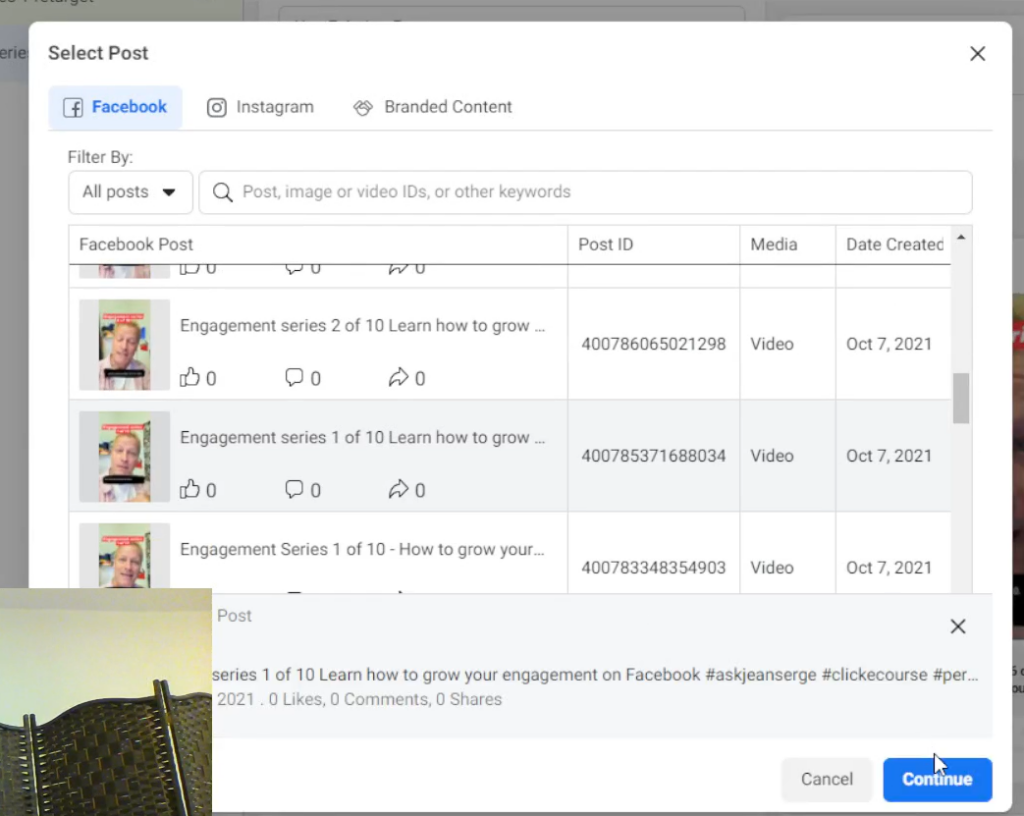 Lastly, you click on Finish to submit your ad for review.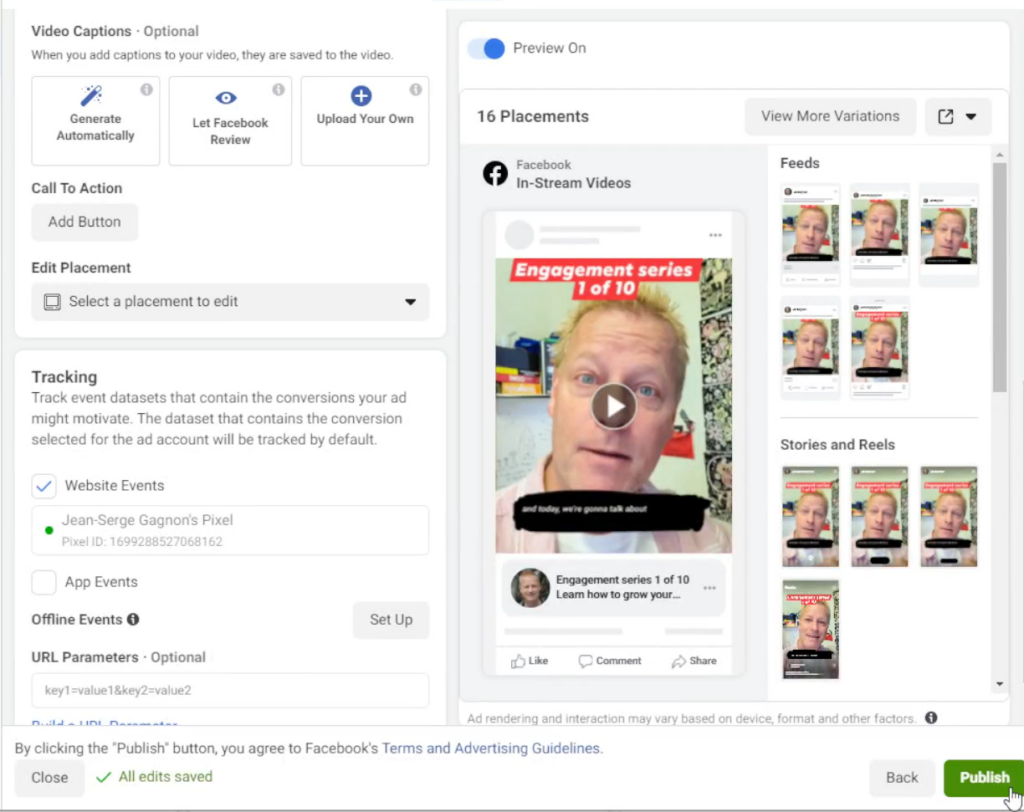 Do this for all the ads you want to create with each video.
Doing the retargetted ads
The process for the retargeting ads is pretty much the same.
The only real difference is that you choose a different target audience which is your custom audience of the people who already viewed your videos.
Before you can use it though, you need to create a new saved audience that uses it.
You can do that when you create the ad in the Ad Set. First, select your custom audience as the source.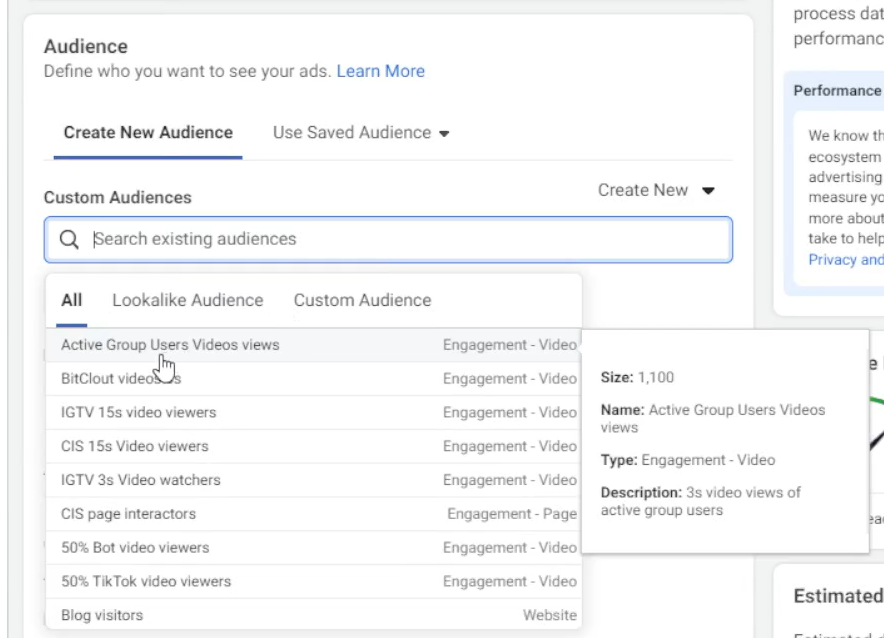 Once you've chosen your custom audience source, you then need to refine it's targetting.
By default, Facebook will make it targeted to your geographic area (like Canada for me), so you'll need to remove that to get everyone who saw your videos.
The you save the new audience to use it in the retargeting ads.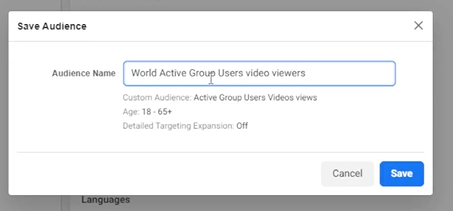 Conclusion
After you have it all done, you'll have 15 or more ads pending approval.
If you are lucky, the will get approved by automation and it not, you'll need to apeal them to hopefully get them approved.
My experience is that the more text the ad has, the more risk you have of getting it rejected.
With this type of ad strategy, you're just looking for new people to see you in their feed.
Watch the video to see exactly how all this is done.
Don't forget to share this video and blog post with your friends, I would hugely appreciate it and your friends will thank you for it.