How to make your WordPress blog a Squeeze Page with aWeber?
One of the most important things to do as an Online Marketer is capture leads!
I'm sure you know that, well if you've been building an Online presence for more than a week!
Every leader, guru and coach will tell you that you have to build an audience and that best audience to build it your own.
Sure, you can build 5000 Facebook friends, 11,000 followers on Twitter, 16,000 connections on LinkedIn, 4,000 followers on TikTok to name a few.
But…
Building an email list is still the only way to build an audience you own 100%!
What do you need to implement what is explained here?
This is covered later on but you'll need to following:
An email list in your aWeber account
These WordPress plugins:

aWeber plugin
Popup plugin
You could surely implement this with other tools but this blog post shows you how to do it with these tools and platforms.
Why should you care about email list?
Maybe you're not convinced that an email list is important to build.
Sure, it's true that it seems people aren't opening emails much but ask yourself this question: what makes you open some emails and not others?
The most common answer is that you find it interesting, am I right?
That's not the point here though.
The reason you need to care about an email list is that any other audience you build anywhere else is not yours to own or control.
At any time, the social platform can decide to shut you out, or worse, delete your account not to mention that they could even go out of business.
With an email list, you own it and can do with the leads as you please.
Getting people to open your emails
All right, you think to yourself, how then do I use this email list and get people to actually open my emails?
Remember how we said you're opening some emails because you think they are interesting?
Well, that's pretty much the gest of it – your emails need to be interesting.
Now, I'm not going to pretend I'm the top most expert on making that happen, but I can tell you that's what you need to do.
Sure, it has to do with the subject, the content and when you send those emails but…
The most important thing is probably making sure that those you add to your list are actually interested in what you send out in your emails.
Seems too simple right?
What's a squeeze page anyway?
Now that you know you need an email list and who you want to get on your list, let's talk about ways to get them on your list.
You can add simple forms on your web site, buttons to ask for their emails to join your list which I can confirm doesn't work well until you already have an audience who visits your blog regularly.
That's where the squeeze page comes in.
It's a page that doesn't let the person continue unless they enter their email.
I know it sounds like you might loose that person because the only 2 options they have is leave or enter email if they want to see the page but keep in mind you don't want the person who is annoyed by that anyway.
How to add Squeeze page to your WordPress blog site?
Once you have your WordPress site, you just need a few plugins and your aWeber account setup for it.
As mentioned before, if you don't already have a WordPress site, you can get a free one from Click eCourse or lots of other places.
First step is to add a Sign-Up form to your aWeber list (of course, you need a list before that too)
You configure that Sign Up form the way you want it – they have tons of templates and you can change how it looks too.
Next, you need to add the aWeber plugin to your WordPress as well as a popup plugin of your choice (I user Popup Maker)
Let's go through each of those steps now.
Adding signup form to your aWeber list
Before anything else, you need to create a list in aWeber.
Then go to the Pages & Forms and then Sign Up Forms menu item.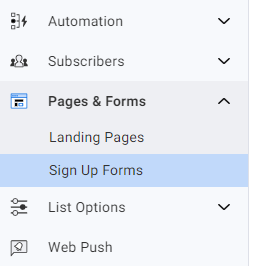 You then click on the Create a Sign Up Form button and select the option For My Website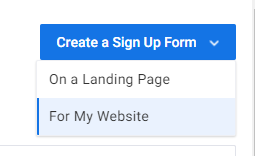 Then select any of the templates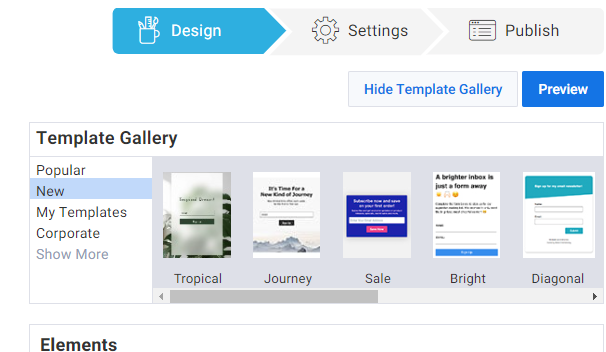 Any will do, this post isn't about how to use the aWeber editor, so don't worry too much about how it looks, you can always got fix it later.
Right now, all we need is to create the basic form and save it by clicking the Save Your Form button and then the Go To Step 2 button.

You can change the form name there but that's not required for our tutorial today.
Just click on the Save Your Form button again and then the Go To Step 3 button.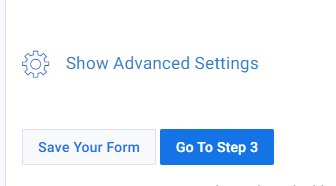 That's it – you don't need to click anything else in aWeber for now, next step is in WordPress
Adding plugins to WordPress
Once you have your WordPress site, you go to the admin interface and select the plugins menu entry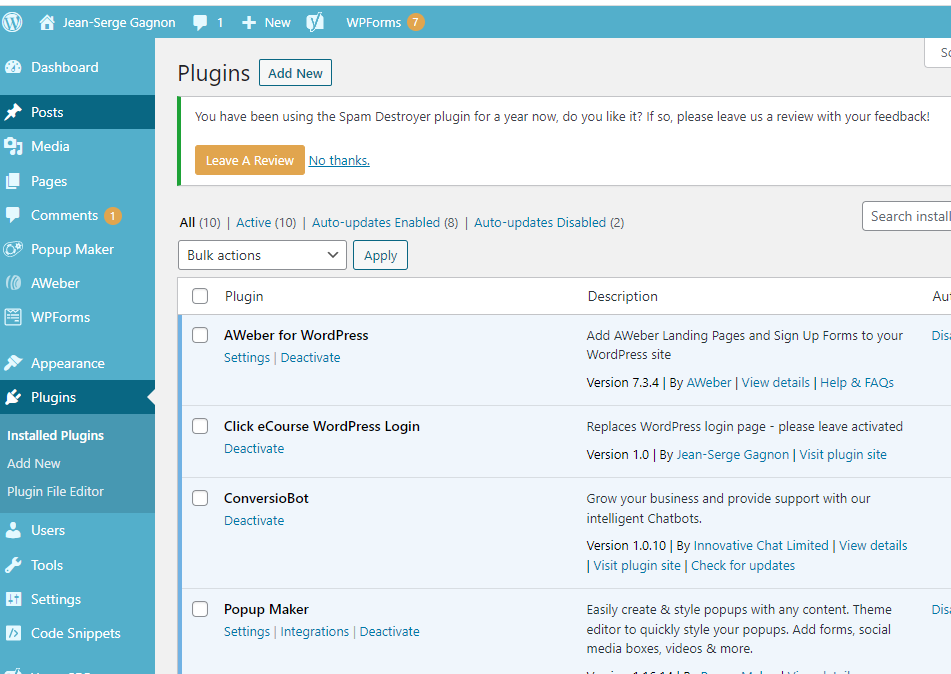 You'll need to click the Add New button on top and search for aWeber plugin as well as a popup plugin (there are lots – I just used Popup Maker)
After installing the aWeber plugin, you'll see the opiton to connect to your aWeber account.
See the video for steps to do that.
Create the Sqeeze page popup on your site
The last step is to create a new popup and make it a full screen popup.
You can choose to make it so it fills the screen (which is really what it must do for it to be a squeeze page) or you can make it less obtrusive.
Again, the steps to do that are shown in the video.
After that, any new visitors to your blog will first have to give you their email or close the page.
Pretty squeezee to me if you know what I mean.
Conclusion
As you can see, it's not super complicated to do this with aWeber.
It's actually pretty simple if you follow the steps.
Once you've created the form in aWeber and added it to your web site, you can edit it as many times as you like and you don't have to go back to make changes on your web site.
Check out the video as I go through the steps with you and you can easily pause and resume as you go.
Make sure to share this with your marketer friends too, they need to see this too.