How to use YouTube Shorts to Grow your Audience?
I'm sure you know how important it is to use new social media platform features early on.
YouTube shorts are certainly no exception and it's been around for a while too, since July 2021 for everyone.
You might be feeling like you're posting on lots of other platforms already, so why a new platform?
The good news is that you can re-purpose videos from other platforms too, although it's always best to create unique content.
What is a YouTube short?
Because of the huge popularity of vertical format videos like Reels on Instagram and Facebook and of course TikTok, YouTube decided to add shorts.
Basically, YouTube shorts are vertical videos of (currently) no more than 60 seconds.
You can add disappearing text, stickers and add music much like other platforms.
You can also upload videos from your phone allowing you to repurpose Reels and TikToks too.
Lastly, and most importantly, you can create a short from existing videos in your channel!
How to record a new YouTube short?
The YouTube app on your phone has the ability to record a new video and make it a YouTube short.
Just open up your app and click on the little circle with a plus in it at bottom of screen, then select Create a Short and start recording.

You first record up to 15 or 60 seconds – click the little circle with 15s on top right of screen to change to 60 seconds.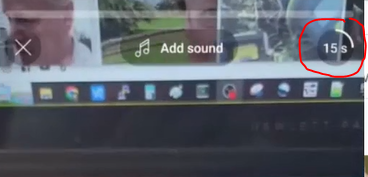 Just like the other platforms, you let go of the red record button to stop and you can click it again to add more snippets until you reach the maximum.
Between each snippet, you can change the camera, the filter and other things.
Once done, you'll either go to next step automatically (if you reach maximum recording length) or you can click the little checkmark on bottom right to move to next step.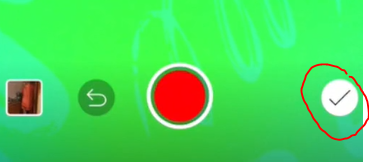 On this step, you can add disappearing text, add a sound/music and setup filters.

When ready, click the Next button on top right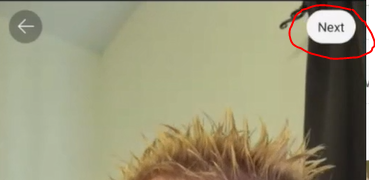 On this last step, you put in your short's title and Upload it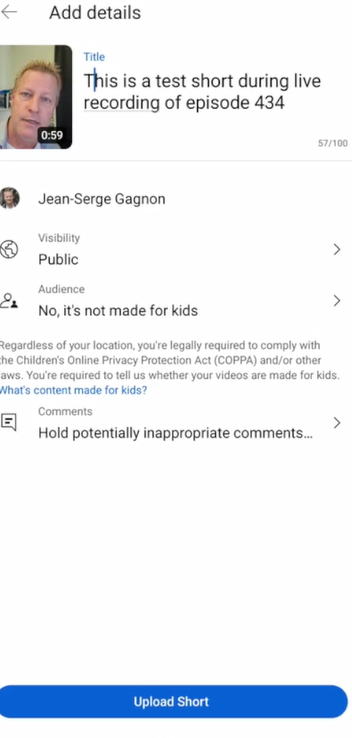 Uploading a video as a Short
The other way to create a YouTube short is simply to re-purpose an existing video.
You can use your stories, your reels or your TikTok videos that you've saved on your phone.
Pretty cool right?
Just do the same thing, click the + on bottom, select Create a Short as before, but instead of recording, you click the little box on bottom left to open your folder with videos.

The rest is also the same, you can add disappearing text, add music/sound and add filters.
You then enter a title and upload it.
Creating a YouTube short from existing YouTube videos
This is the most interesting feature for marketers, especially if you are using your YouTube channel to publish your content.
Like me, I publish all my blog videos as YouTube videos of 30 minutes or so.
I get very little views on them mostly because I don't really promote them but with YouTube shorts, you can bring more people in to watch them!
What you do is go to the video itself and click on the Remix button under it and then choose Edit into a Short.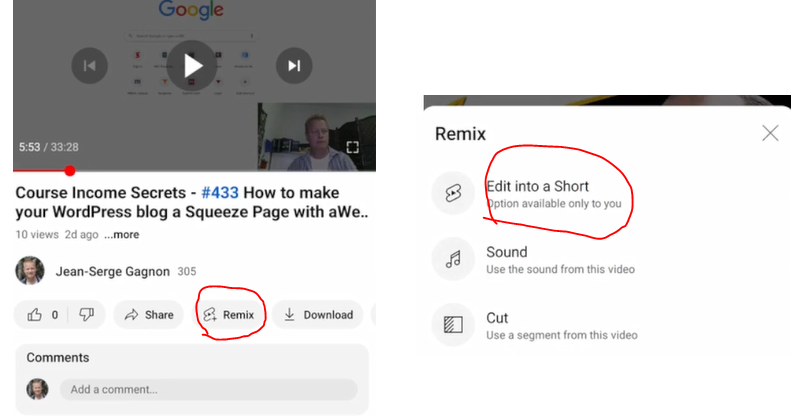 This takes you to a video editor that allows you to move anywhere within your full video and select a short segment as a new YouTube Short.
Just move the little white circle, drag the start and end white vertical bars or drag the trim view across the length of the video and then click Next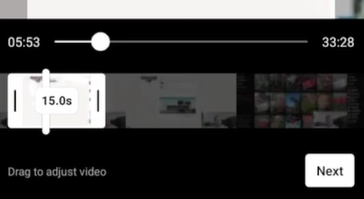 You will next see the same view where you can add disappearing text, music or sound and add filters and lastly enter the title.
What is so cool about Remix Short option?
What I didn't explain yet is why I think the Remix and Edit into a Short option is so amazing…
When you create a YouTube Short video using the Remix option, that short includes a link to your full video when anyone watches it!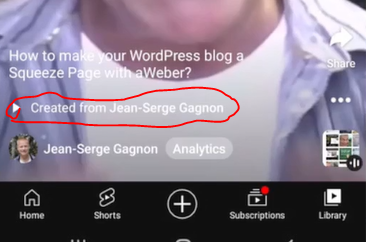 When anyone watches that video, if they want to learn more, they don't have to go read the description or the title, they can just click the link!
Pretty cool, right?
Of course, like any other content on social media, you have to create content your audience will be interested in and will want to click on those links, so it's not "if you build it, they will come", right?
Conclusion
When I first learned about the Remix into a Short, I thought it was pretty cool.
So, then I started creating 3 shorts from my videos and am getting lots of new views -like hundreds more!
Check out the video as I go through the 3 ways to create YouTube Shorts in much more details.
I'd love to hear from you if you decided to implement these strategies too.
Don't forget to share this with your friends- they need to see this too!