Secrets to Facebook Ads getting 1000s of video views for pennies!
If there's one thing that's constantly changing, it's Facebook Ads and how to create Ads there.
But, so far, the best way to get bellow penny views on your videos has not changed.
It's still very easy to get 10-50 views per penny if you know how.
Imagine getting 10,000 video views for just $20 – or even $10!
What are video views really?
Of course, a video view isn't always something that's worth much which can be why it's so cheap.
But if you know how to use it, you may as well say it's gold!
A video view, at least on Facebook, is defined as: People who viewed at least 3 seconds of your video
On it's own, someone seeing just 3 seconds of your video isn't saying much which is probably one reason why Facebook ads are measures in "ThruPlay" which is 15 seconds or more.
What's the secret to super low cost views?
The real secrets to super low cost video views is to advertise to an audience that has already watched your videos in the past.
Now, that might sound like a really disappointing truth if you're just getting started but it's really not that hard to get there.
What I did was create a new 5 minute video every day, post it to my page and then add it to an audience.
Then I shared that video to 5-10 "spam" groups in my target market and grew the audience by 50-100 people a day.
After a month, I'd have an audience of almost 30,000!
How do you create an audience?
To be clear here, I'm not talking about an audience in the sense of followers or fans.
What I'm referring to here is a Facebook ads audience.
You go to your Ads Manage and in the menu, select Audiences.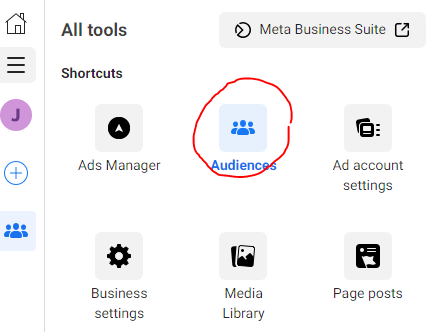 Then you click the blue Create Audience button and select Custom Audience.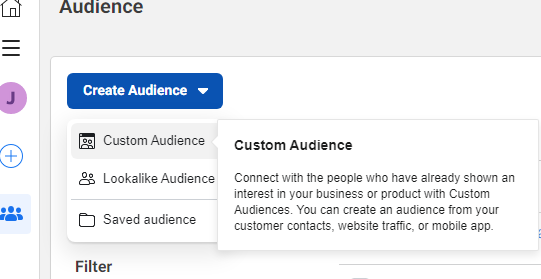 Next, you choose Video and click Next button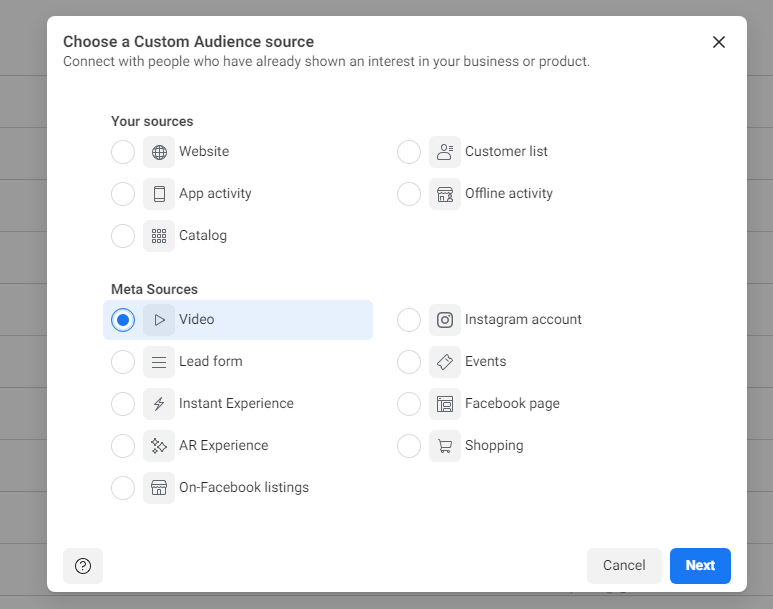 Under Engagement pull down, select People who viewed at least 3 seconds of your video and then click on Choose videos to select which ones.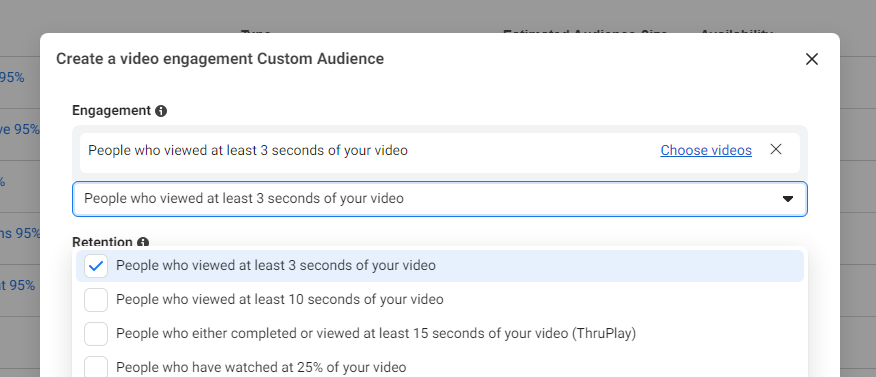 Lastly, give your audience a name and save it.
Every time you post a new video, go edit this audience and add the new video by selecting checkbox and clicking the Edit button.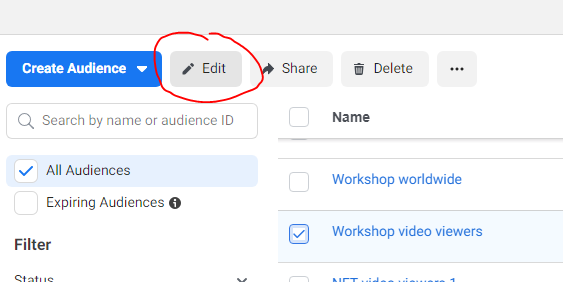 How to get 10,000 views for pennies?
Once you have an audience you've built – which can be done anytime after you've posted videos to your Page – you can create one or multiple ads to a new video.
Basically, what you do is post the new video and create an ad for it.
You could just simple "boost" the post but I like to use the Ads Manager to create it.
The bigger your audience is (people who watched your previous videos), the better your new video ad will perfom.
Keep in mind that a small audience will still work but views may be more per person.
Even better, create a video sequence ad series
Wait what?
What's a video sequence ad series you ask?
Actually, I'm not sure what the real name is but I'm referring to a series of Ads that are shown to people who saw previous video.
Imagine you have a series of 5 videos that explain a specific thing to your viewers and to understand what is explained in video 2, you need to have seen video 1, as for video 3 you need to have seen video 2, etc…
So, you'd want video 5 to only be shown to those who saw video 4 and so on…
I'm guessing you are getting the idea here.
This requires you to do the following:
Post the 5 videos
Create an audience for each video
Create ads for each video using the audience of the viewers of the previous video.
You can then create an ad for video 1 to any audience type you want.
This will ensure that people who see video 2 have seen video 1 and so on.
You can even take it further to audiences that have seen 50%, 75%, 95% or 100% of the videos.
How to create a Facebook ad on existing video?
You could just "boost" the post but I like to go to the Ads Manager and ad it there.
Just click the green + Create button.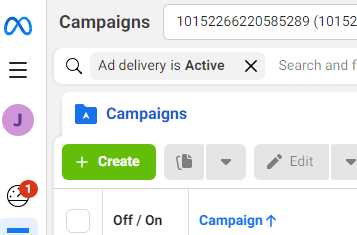 Then select Engagement from campaign objectives and click Continue.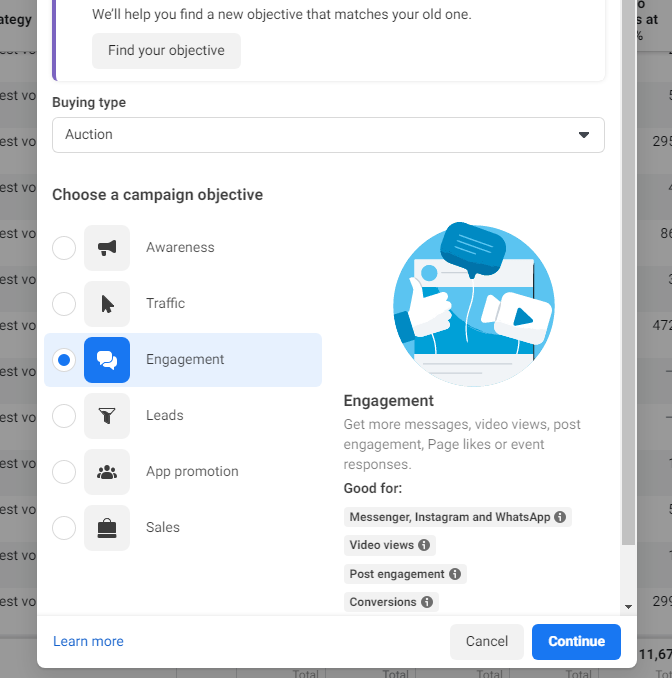 Next, give it a campaign name – I like to use new campaign, new ad set and new ad each time with all the 3 the same name.

Next set a daily budget. I use the lowest I can unless I can afford more. Then click Next to go to the Ad Set section.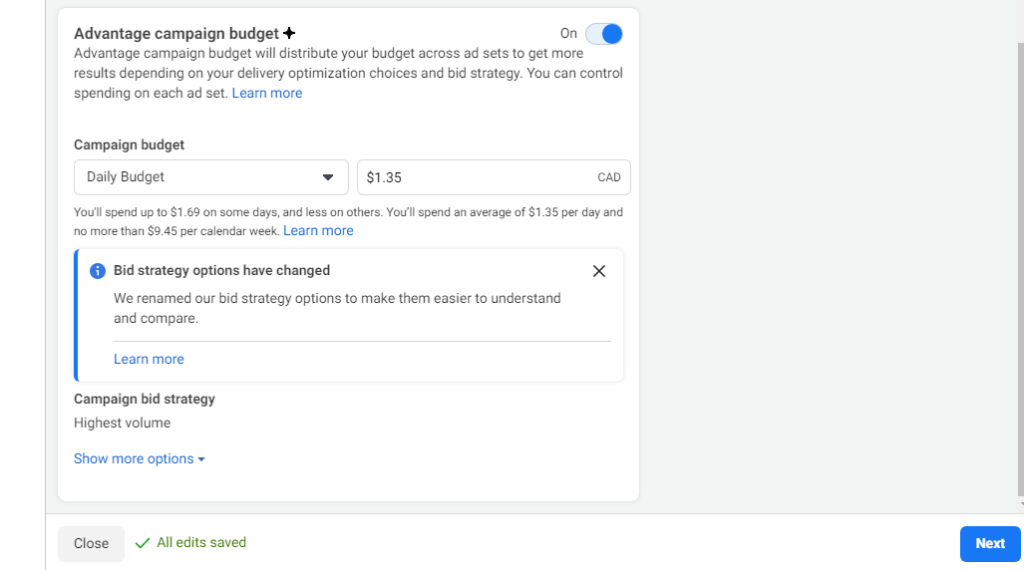 I then set the Ad set name to the same and select On your Ad for the conversion location option.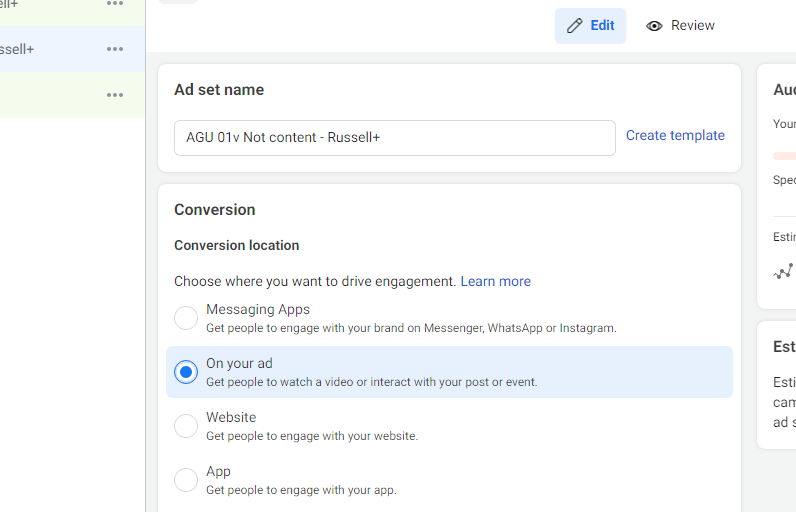 The Ad set is also where you choose your audience – scroll down and either create a new audience, select an already saved audience or, in our case, click the box to show your custom audiences as options and choose the relevant one (like if this is video 2, you should choose viewers of video 1 audience)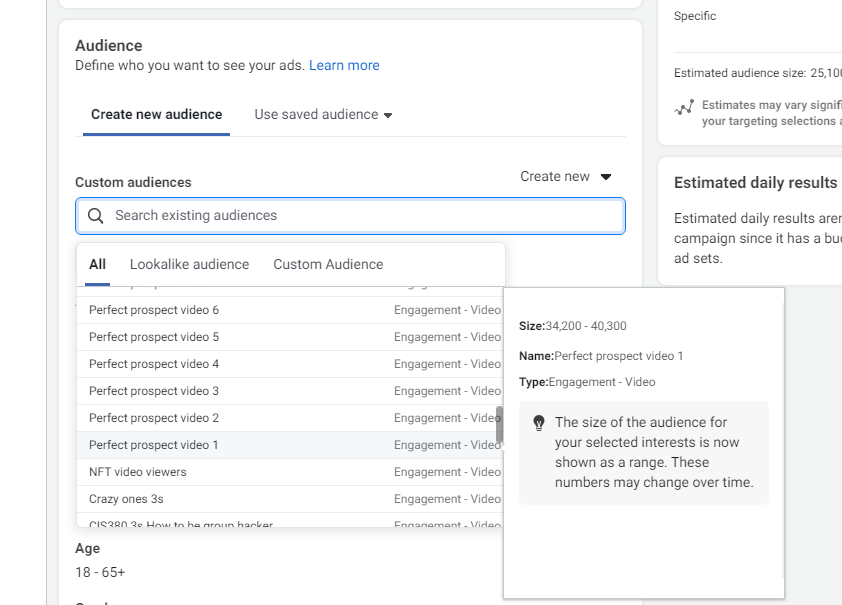 Keep in mind that when you first create the audience, it will be empty, so you won't see numbers like what are in my screen shot here.
Set the Ad name and ensure the identity for Facebook Page is correct (and Instagram account if you use that) and then change the Ad setup to Use exiting post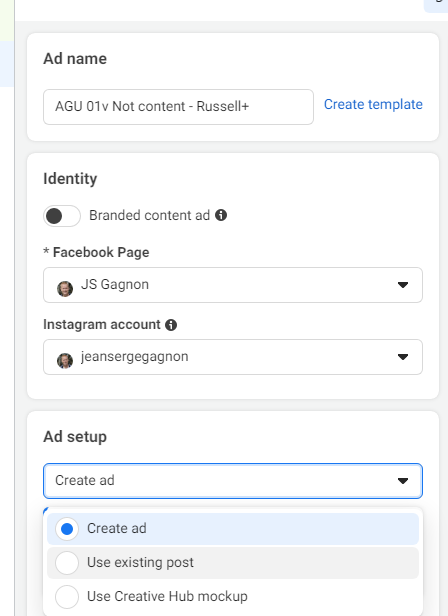 After that you will need to click on the Change post button

Which will take you to the post selection. Find the video you want to use, select it and click Continue.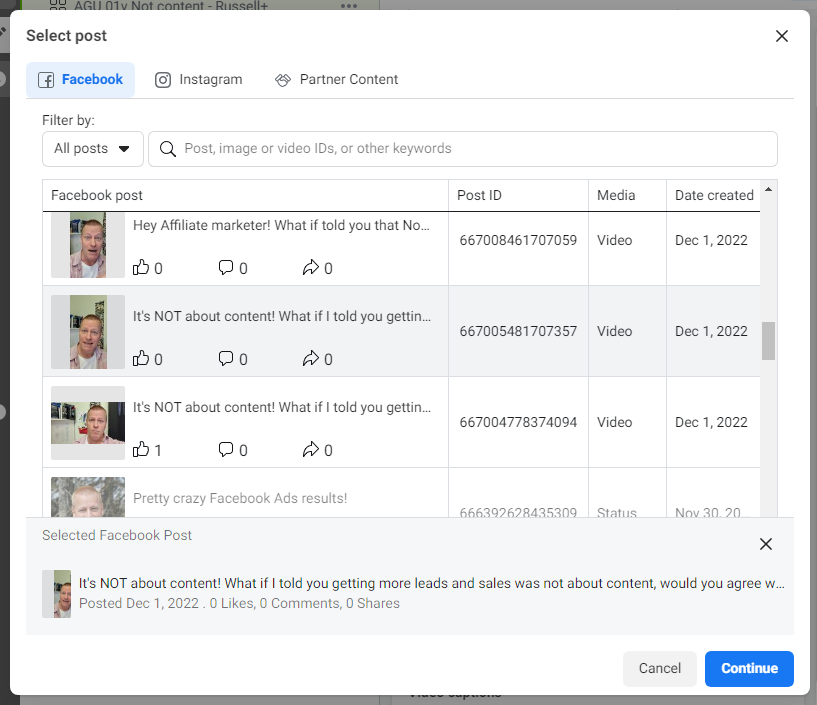 Lastly click on the green Publish button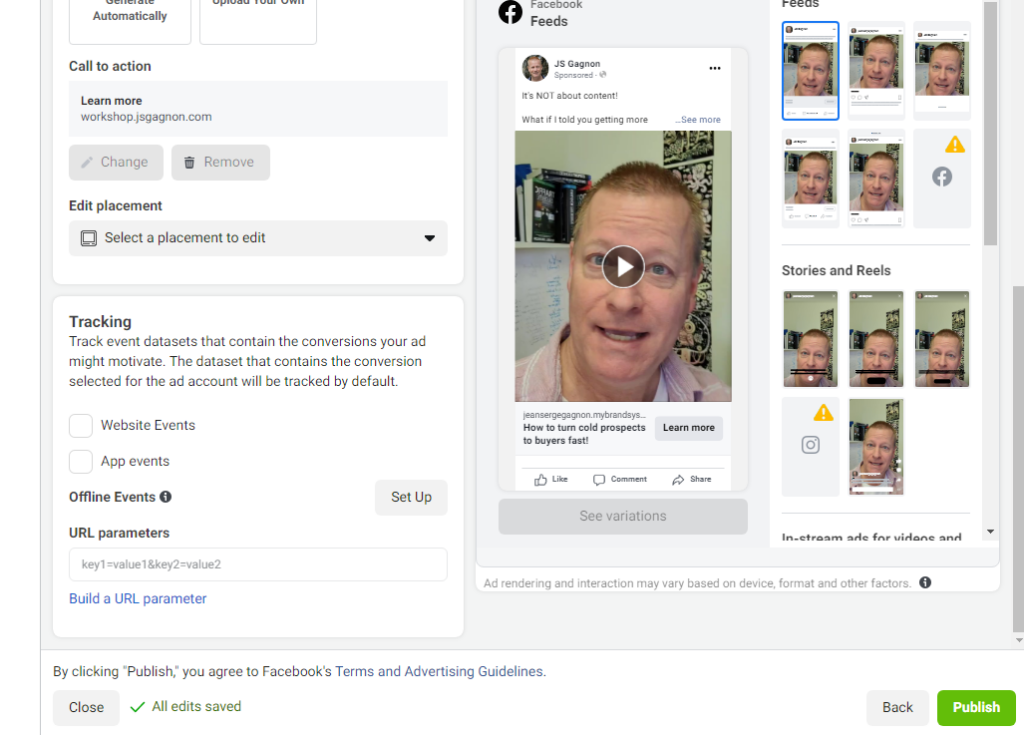 You can repeat this for all the videos and put $1 per day on each video, so if you have 5 videos, it would be $5/day but you'll see a huge amount of views for a super low cost.
The secret is then to use that new audience – like viewers of video 5 – and send them an ad to encourage them to get on your list or buy your product.
Because they saw 5 of your videos (actually more since starting audience if viewers of previous videos), they are 100% more likely to take action.
The Videos I used in my 10 ads
Before concluding this post, I must mention the videos I promised I'd share here.
If you watch the video for this blog post, I show you my results which are pretty impressive I think.

I've turned them off since then because I'm doing a different series but I had 10 different videos all setup to be shown to those who saw previous one except for 1st video which was set to different audiences.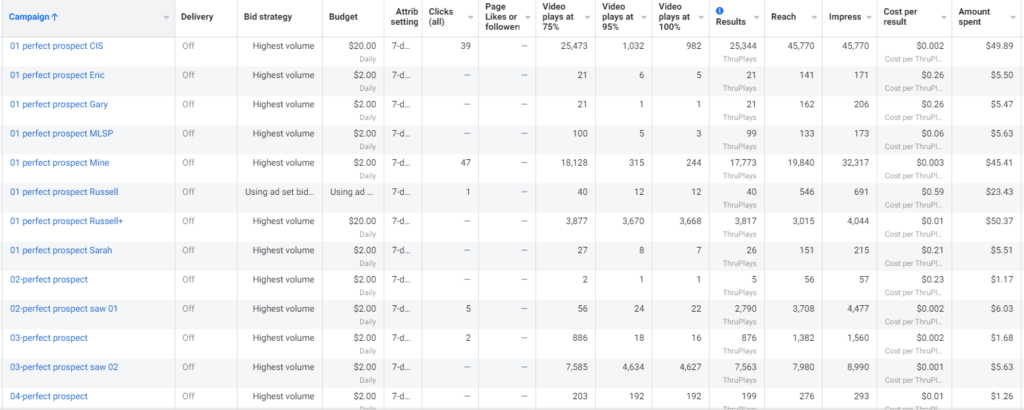 As you can see, my average for views, or rather ThruPlays, was 0.002 per ThruPlay, pretty insane right?
If you want to see what they are, the videos are all in this playlist on my Page: https://www.facebook.com/watch/100051937334497/1841101539564787
Of course, current videos are not the same as those are just there for historical fun.
Conclusion
I wish I could go into even more details because there's so much more to talk about but I'll let you explore and let me know if you have other specific questions.
Watch the video to get a hands-on view of how to do all that – I probably cover a few more things in that video plus you can pause and resume as you wish.
Don't forget to share this too with your friends and join me in my workshop at workshop.jsgagnon.com too if it's still happening when you read this.