How to Integrate MLSP Business Center with Webinarjam?
I love MLSP Business Center and I love Webinarjam but they don't play together normally.
I've been using Zoom to do webinars and to be honest, it's missing a lot of features that you'd expect from a webinar platform.
That's to be expected I guess since Zoom was really a meeting platform and it does that really well.
So when they added Webinar capabilities, it was great news for those who love it's most attractive features but when I tried it a few times for my webinars, I really missed what I was used to in webinarjam.
What did I miss in Zoom that Webinarjam has?
Things like easy tracking of registrations, attendees and replay viewers.
The ability to see how much of the webinar a particular attendee saw.
Being able to add aweber list tag based on all sorts of advanced rules – like it they left live room before the pitch or watched the whole thing.
Not to mention easy reporting on all that.
What is MLSP Business Center?
MLSP, or MyLead System Pro, Business center is a platform that allows you to:
Create sales and opt-in funnels and pages
Sell your own digital courses
Integrate with Stripe and Paypal
Setup a membership site
Create sales offers
Add order bumps to funnels
Manage people with CRM
The marketing funnels are great and let you add things like countdown timers, exit popups and more.
You can actually give it a try for 30 days for just a $1!
Go to mlsp.jsgagnon.com to get your $1 30 day trial!
What is Webinarjam?
Webinarjam is an advanced webinar platform for online marketers
It allows you to host a webinar with up to 6 panelists, share your screen, videos and slides all from within your browser.
Contrary to Zoom, it does not require any special software as it works from regular browser.
It's got advanced analytics, fine tuned tracking of registrant activities as well as many more features.
I has a pretty decent registration page editor but nothing advanced like MLSP Business Center funnels.
You can also get a $1, 30 day trial at https://wj.jsgagnon.com (just mouse over to top of screen to reveal the $1 offer)
Why not use the Webinarjam registration page?
Although the Webinarjam platform does allow you to create registration pages, it's limited in advanced features such as timers and exit popups.
I also wanted to CRM and membership site integration with MLSP.
The problem is that MLSP only integrates with Zoom webinars.
How can you integrate MLSP with Webinarjam?
You can integrate MLSP funnels with Webinarjam using Click eCourse API keys.
What do you need to do that?
A webinarjam account ($1 trial at https://webinarjam.jsgagnon.com)
A MLSP Business Center account ($1 trial at https://mlsp.jsgagnon.com)
A Click eCourse or Active Group Users account (free) at https://clickecourse.com or activegroupusers.com
An API key from Click eCourse (or Active Group Users)
A scheduled webinar in WebinarJam
A webhook created in your MLSP Business Center
A funnel or opt-in page
An event added to your funnel that uses the webhook
I know it seems like a lot, but it's really rather simple to do if you follow these as steps.
Creating the API key in Click eCourse
Once you have the 3 accounts you need, your first step is creating the API key in your Click eCourse (or Active Group Users) account.
Just login and click on your profile picture on top, enter api in the Find box and then click the API Keys item.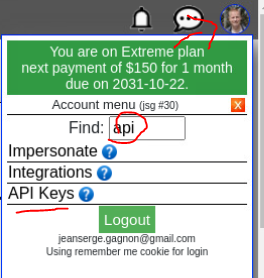 Click on New API key link, enter a name and click Save button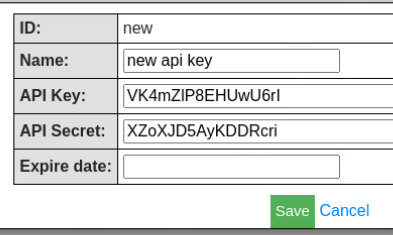 Creating Webinar and webhook
Once you've created your webinar in webinarjam, you'll need to find the webinar ID.
To find that, click the Your Links button for it

You'll then see the link for your webinar, all you need for next step is the ID which is the last part of that URL.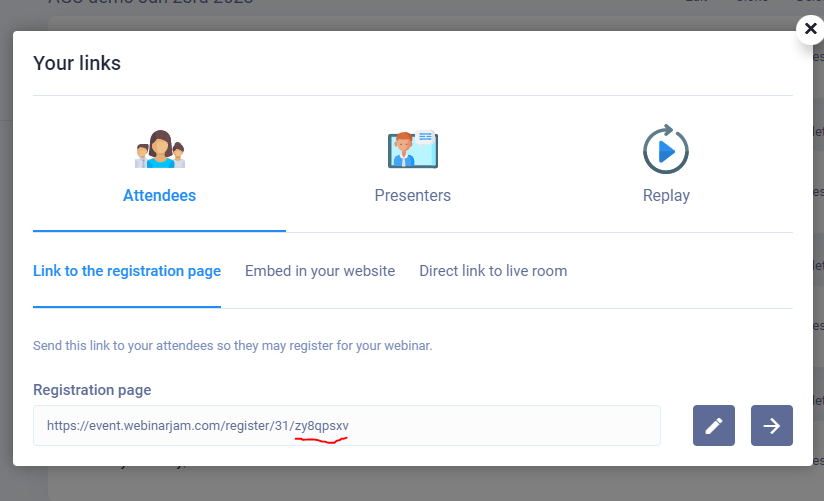 You then go to Click eCourse and click on the Reveal button next to the API key you created

This will pop open the secret and the sample URL so right click the url and select copy link address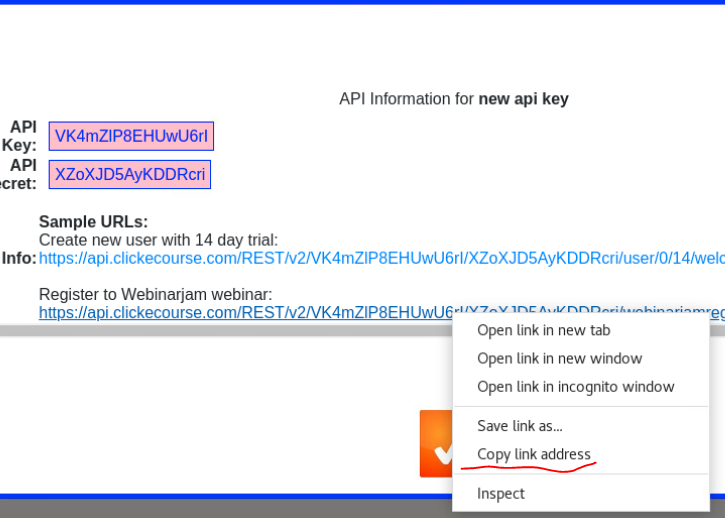 Next, go to MLSP Business Center in the Account Setup and Integrations page and click Add New Integration button

Give it a name, select Webhook for Integration type and paste the URL.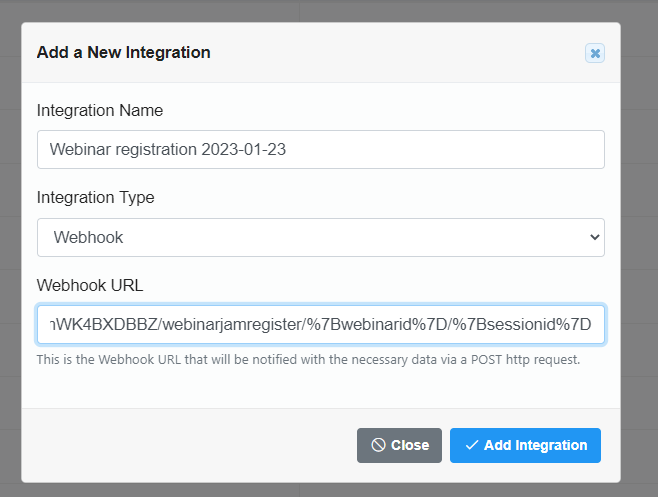 Lastly, you need to replace the %7Bwebinarid%7D with the webinar ID you got earlier and replace %7Bsessionid%7D with the webinar session id (normally 1 – but watch video for explanation)
Create a funnel and add the webhook event
Lastly, you'll need to create a funnel with an opt-in page.
I won't go into those details here but you can see an example in the video.
Conclusion
Watch the video to see a full example of how to do all this.
Once it's done, anyone registering for your webinar using your MLSP Business Center funnel will get added to your webinarjam webinar.
You'll then be able to do all the advanced integrations and tracking in webinarjam!
Make sure you share this with your online marketing friends who want an advanced solution.